Cuando pensaba que no podría meterme en más líos para este 2012 que ya acaba, me vuelvo a equivocar.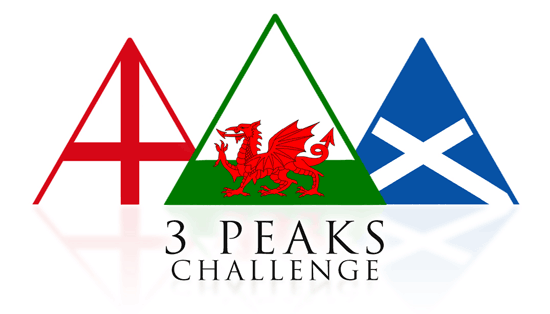 El 27 diciembre marcho rumbo a Leeds a una conferencia, aprovechando que estoy allí visitaré a grandes amigos que viven en la ciudad de Leeds. Hablando el otro día con uno de ellos, David, me hablo de un reto conocido en toda Inglaterra y muy famoso, "the three peaks challenge" (el reto de los tres picos). A los pocos días, me doy cuenta de que estoy inmerso en otra aventura. Esta vez con más implicaciones que de costumbre.
The three Peaks Challenge
Es considerada como una de las pruebas más exigentes para aventureros que buscan nuevas experiencias. Se trata de subir a las montañas más altas de Escocia, Inglaterra y Gales y completarlo en menos de 24h.
Lo que me hizo dar el paso al frente y adentrarme en este reto fue leer el siguiente párrafo en la descripción del sitio Web: "la dificultad y riesgo de este reto no debe ser subestimado. Es muy fácil perderse especialmente cuando coronas los 3000 y a esto hay que añadir las duras condiciones climáticas de la zona." Tarde menos de un día en dar el sí quiero.
Algo Pasará
Ahora viene la parte buena, nunca antes he hecho trekking ni trail y teniendo en cuenta de que tengo 1 semana para ponerme a punto para subir a tres 3.000 en 24h, he decidido no planear y cuando esté allí, seguro que algo pasará. Usualmente la gente que marca la diferencia nunca tiene nada que perder y casi nunca un plan B trazado, así que iremos y haremos que suceda.
La aventura empieza el sábado 29 diciembre. Una hora de viaje desde Leeds, así que nos levantaremos a las 5.00am para poder ver el amanecer desde uno de los picos.
Es importante completar el reto antes de que se vaya el sol, porque es peligroso a partir de esa hora, la idea es empezar a las 6am y acabar a las 4.30pm, serán alrededor de 10 horas dependiendo de las condiciones climatológicas. Ahora supongo que tendré que equiparme, porque no tengo nada de lo que necesito.
Algo que aún me flipa aún más es el comentario de mi amigo David al explicarme la prueba: "We are doing it without professional support (because we are heroes) and I will organise for a GPS system to ensure we take the correct route." [Traducción: lo vamos a hacer sin ayuda profesional (porque estamos locos) y yo me encargaré del GPS para asegurarnos que vamos por la ruta correcta."]
Definitivamente, no existe un mapa.
Me parece una manera fascinante de acabar un año fascinante. Descansaremos al completarlo, y al día siguiente a Londres, si estás en Londres el 31 Diciembre, avisa, quizá podríamos brindar por otros intensos 365 días.
Cuidado, tiempos increíbles.