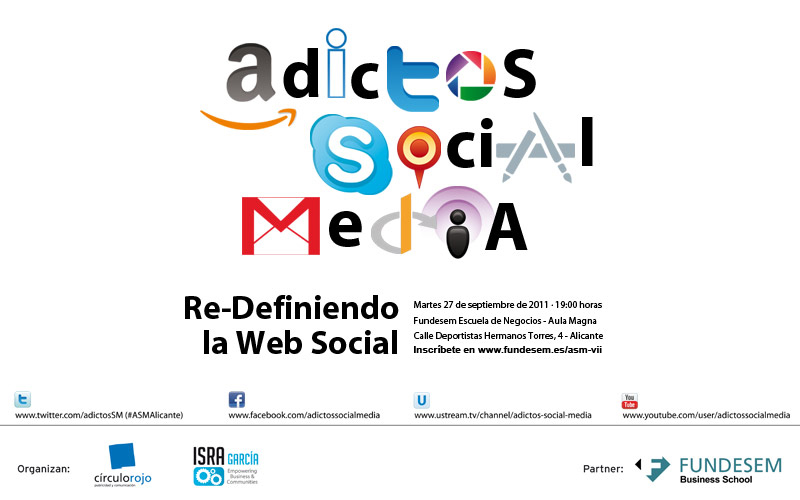 Después de unas vacaciones vuelve Adictos Social Media y vuelve con su séptima edición. En estos seis eventos, hemos recorrido lugares como Alicante, Valencia, Bilbao, Málaga, Madrid… Ha sido increíble poder reunir 5.000 profesionales y entusiastas de lo que supone esta re-evolución. Nunca lo hubiéramos imaginado, eso es lo genial. Ahora es el momento de regresar a uno de los lugares donde empezó todo…Alicante, en concreto Fundesem International Business School, este será el lugar elegido. Un lugar donde más de 400 personas se dieron cita en el Enero pasado, para hacer de la segunda edición de Adictos Social Media, uno de los eventos de Social Media que más asistentes ha reunido. Wow! Gracias a Fundesem por el apoyo, implicación y complicidad demostrada a un grupo de jóvenes que tenían ganas de decir algo. Hoy esos jóvenes siguen teniendo algo que decir, por eso estamos aquí.
El Evento
El evento tendrá lugar el próximo martes 27 de septiembre a las 19:00h en el Aula Magna de Fundesem (Calle Deportistas Hermanos Torres, 4 – Alicante), y para esta ocasión hemos querido profundizar un poco más sobre lo que envuelve Social Media, hablo de la Web Social. Re-Definiendo la Web Social: hablaremos de ese entorno, de lo que lo compone, los agentes que intervienen y como lo hacen, que pasa cuando esto sucede, la interacción con las plataformas, herramientas, canales y medios y como todo esto se interrelaciona con el eje central, el compuesto por la empresa, comunidad y personas.
Los Participantes
Siempre nos gusta poder acercarte mentes inquietas, con experiencia y trayectoria, que puedan compartir sus pensamientos, reflexiones y conocimientos contigo y que por supuesto añadan valor. En esta ocasión contamos con tres grandes profesionales:
– Diego Jiménez: Fundador de ROI-UP Agency – Spain & Portugal, experto en marketing online, con amplia experiencia internacional en proyectos muticanal, pero sobre todo amante del mundo digital.
– Javier Prieto Martínez: Director de Estrategia e Innovación de Inxeniu Internet Media, colabora con startups y emprendedores en la creación de nuevos negocios, y con grandes empresas en la gestión de su estrategia de comunicación y marketing 360º, comercialización en nuevos mercados, marketing no convencional, innovación y Social Media.
– Francisco Javier Melero: Es Director de Investigación y Estrategia Social Media de Netthink Isobar. Es socio fundador de The Fresh Social Consulting y profesor y colaborador de Social Media en School of Marketing, Máster Universitarios (Universidad de Oviedo y la Universidad de Camilo Jose Cela en Madrid)
A los invitados se suman los organizadores, co-fundadores y speakers de Adictos Social Media:
– Álex Rubio: Social Media Strategist en  Círculo Rojo, co-fundador de Adictos Social Media y com.on, formador y ponente en el campo de Social Media – Marketing, y Rethinking Social Media en Business en alexrbn.es.
– Isra García: Human Media – Human Business Interactions Advisor, Profesional Speaker y Principal en IG – Empowering People, Business and Communitites.
Adictos Social Media es un evento organizado por Isra García y Círculo Rojo, que en esta ocasión cuenta con la alianza y apoyo como partner de Fundesem International Business School.
Como Inscribirte
Inscríbete ahora al evento, como siempre GRATIS, a través del formulario de inscripción haciendo click aquí.
¿No puedes venir? ¿Tu jefe dice que es una perdida de tiempo? ¿Qué vendemos motos? ¿Mañana tienes un combate de Sumo y necesitas preparación? ¿Tienes que ir al Bingo a probar suerte? Bien, también pensamos en eso. Puedes seguir todo lo que pasa en Adictos Social Media Alicante a través de nuestro canal Ustream y mediante el ya conocido internacionalmente TweetChat #ASMChat con Beatriz Mena,Raúl Salazar y Dámaso González al mando. También puedes seguir en antes, durante y después del encuentro a través de nuestro hashtag exclusivo ASMAlicante, aquí podrás estar al corriente de todo: ponentes, temas, horarios, recursos, concursos, modificaciones, etc.
La semana que viene volvemos con el programa y el índice de contenido para el encuentro.
Tenemos la nevera llena de Red Bulls y ganas – muchas ganas – de rockear!
¿Rockeas con nosotros?