Sin ningún orden en particular, aviso.
Libros
Your Turn.
The Icarus Deception.
The dipp.
Rework.
Screw it, let's do it.
Crush it.
The 22 inmutable laws of marketing.
Linchpin.
The 4-hour workweek.
End Malaria.
The Freaks Shall Inherit the Earth.
El poder del ahora.
Disruption Revolution.
Insubordinate.
El libro del ego.
Podcasts
Chris Brogan podcast.
The Tim Ferris Show
James Altucher Show.
SSRadio.
Dave's lounge.
The Adventures of Soul Clap.
Publicaciones
Blog Seth Godin.
FastCompany.
INC.
Business Insider.
Social Media today.
Social Media Examiner.
Gapingvoid – Hugh McLeod.
Champagne
Bollinger Especial Cuveé.
Perrier Jouet Belle Epoque.
Seguir en Twitter
@RichardBranson.
@eljovenlekal.
@cala.
Estudios
MACOM – UPV.
ISDI – MIB.
Waldorf.
Stand OUT Program (sí, es una recomendación propia, pero tampoco colocaré un enlace, como en el resto)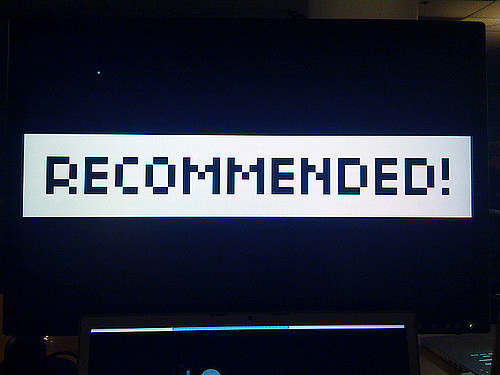 Series / TV / Vídeo-blogs
TED.
The BigBang Theory.
Brian Solis Revolution Series.
El Show de Jimmy Fallon.
Ask Garyvee.
WOBI.
Casey Neistat.
Música
Aretha Franklin – Rare & unreleased.
Al Green – Lay it down.
Foo Fighters – Echoes, silencia, patience & grace.
Ray Hargrove – Ear food.
Kirk Whalum – Roundtrip.
Diana Krall – Quiet nights.
Pancho Sánchez – Psychodelic blues.
Frank Sinatra – The very best.
Luciano Pavarotti – Pavarotti,s greatest vocal hits.
Plácido Domingo – The very best of Plácido Domingo.
Ludovico Einaudi – Nightbook.
Restaurantes / cafés
Can Pilot.
Cala Bandida.
Café Bocablo.
Festivales
Burning Man.
Coachella.
Glastonbury.
Sónar.
Fiestas
Closing Amnesia Ibiza.
Circoloco.
Zoo Project.
Music On.
El Row.
Photo credit: jm3.