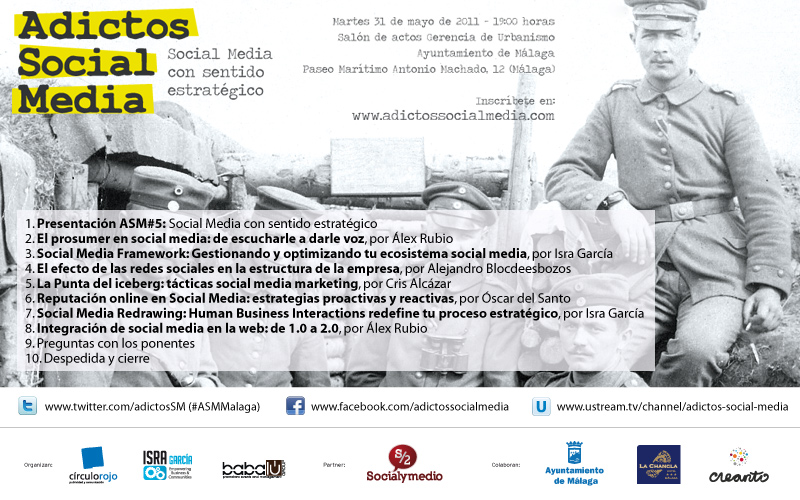 Adictos Social Media llega a Málaga el próximo martes para debatir sobre la importancia de la estrategia en los medios sociales
Ya queda menos de una semana para que Adictos Social Media llegue a Málaga. Como sabrás, el próximo martes 31 Mayo a las 19 horas celebraremos el quinto encuentro de esta aventura por España para debatir y reflexionar con más adictos y adictas a esta revolución de la comunicación. El evento tendrá lugar en el Salón de Actos Gerencia de Urbanismo del Ayuntamiento de Málaga (Paseo Marítimo Antonio Machado, 12 – Málaga). Y, como lo prometido es deuda, aquí tienes el guión de todo lo que se debatirá dentro del encuentro:
1. Presentación ASM#5: Social Media con sentido estratégico
2. El prosumer en social media: de escucharle a darle voz, por Álex Rubio
3. Social Media Framework: Gestionando y optimizando tu ecosistema social media, por Isra García
4. El efecto de las redes sociales en la estructura de la empresa, por Alejandro Blocdeesbozos
5. La Punta del iceberg: tácticas social media marketing, por Cris Alcázar
6. Reputación online en Social Media: estrategias proactivas y reactivas, por Óscar del Santo
7. Social Media Redrawing: Human Business Interactions redefine tu proceso estratégico, por Isra García
8. Integración de social media en la web: de 1.0 a 2.0, por Álex Rubio
9. Preguntas con los ponentes
10. Despedida y cierre
Unas intervenciones con unos invitados y amigos de de gran nivel dentro del panorama Social Media en nuestro país:
– Cris Alcazar: Co-fundadora de Bee Social. Especialista en Marketing y Publicidad y apasionada por añadirles Social Media.
– Alejandro Blocdeesbozos: Co-fundador de SocialyMedio. Director creativo, Community y Social Media.
– Oscar del Santo: Consultor de Estrategia, reputación y Marketing de Atracción 2.0.
A ellos se sumará la participación de los co-fundadores y organizadores de Adictos Social Media:
– Isra García: Human Media and Human Business Interactions CEO en IG Empowering People Business and Communitites.
– Álex Rubio: Social Media Strategic Planner en Círculo Rojo Publicidad y Comunicación.
Es la primera vez que el evento llega a tierras andaluzas y estamos por ello especialmente agradecidos a los compañeros de la agencia de comunicación SocialyMedio, que actúa como partner de este encuentro, y también al Ayuntamiento de Málaga, al Hotel la Chancla y a nuestros amigos de Creanto The Cloud Agency, que también nos apoyaron en Madrid.
Puedes inscribirte ya al evento, como siempre de forma gratuita, en la web de Adictos Social Media. Y, si no puedes asistir, como viene siendo habitual podrás seguir todo lo que pasa en Adictos Social Media Málaga a través de Ustream y mediante nuestro internacional TweetChat #asmchat con Beatriz Mena, Raúl Salazar y Dámaso González al mando. También puedes seguir el hashtag oficial #ASMMalaga, donde podrás enterarte de la última información sobre el evento, así como posibles cambios y el desarrollo del encuentro, por supuesto participar, colaborar e intercambiar todo sobre este cambiante mundo en el que nos encontramos
Nos gustaría tenerte entre nosotros, confirma tu asistencia gratuita en www.adictossocialmedia.com