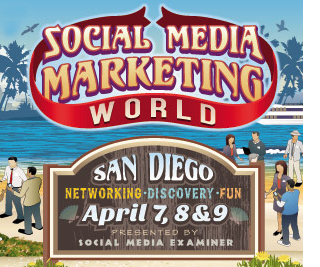 Hoy arranca posiblemente el evento más potente de social media que he conocido hasta la fecha: Social Media Marketing World, en San Diego. Un evento que reúne a los mejores profesionales de USA sobre la Web Social. Más de 1.000 asistentes procedentes de todo el mundo, Australia, India, Rusia, Latinoamérica o España en un evento con 58 charlas sobre las diferentes áreas que componen el universo social media.
Algo que me gusta hacer es asistir a a un sólo evento por año y este, para mi, era sin duda el evento del año. Aquí estamos Lucas y servidor dispuestos a extraer el máximo de cada minuto que pasemos en #SMMW13. Para poder conseguirlo, hemos realizado un planning adaptado a nuestros intereses, ya que con 5 charlas a la vez en 5 salas diferentes va a ser un poco difícil estar en todas.
Planning #SMMW13
Este va a ser nuestro planning para Social Media Marketing World 2013. He dividido las charlas a las que vamos a asistir por horas, speakers, lugar y después el título de la charla.
Día 1
8:30 a 9:30h – Michel Stelzner (8:15) San Diego Ballroom: «Social Media Marketing in 2013: New Research and Its Implications» – Larry Benet (9:00): «Advanced Networking: How to Make Lasting Connections.»
10:30 a 11:15h – Opción A. Mari Smith Room A: «Super Session: 10 Ways to Improve Your Facebook Reach.» Opción B. Mitch Joel. Room B: «Super Session: Five Strategic Business Movements That Change Your Brand Forever.»
11:30 a 12:15h – Opción A. Guy Kawasaki. Room A: «Using Google+ to Build a Platform.» Opción B. James Wedmore. Room B: «How to Use YouTube to Build an Unstoppable Brand.»
14:15 a 15:00h – Opción A. Rich Brooks. Room F: «Beyond Likes: How to Turn Fans into Customers.» Opción B. Kyle Lacy: «5 Social and Digital Trends Impacting Consumer Behaviors.»
15:15 a 16:00h – Nichole Kelly. Room C: «Social Media ROI: How to Finally Deliver Measurable Results.»
16:15 a 17:00h – Sally Hogshead. San Diego Ballroom: «How to Fascinate With Your Social Media Messages.»
Día 2
8:00 a 9:00h – Jay Baer with Mark Schaefer, Chris Brogan and Mario Sundar. San Diego Ballroom: «Are We Getting Better or Just Busier.»
9:45 a 10:30h – Chris Brogan. Room C: «Your Aren't Going to Like This: Social Media Isn't the Answer.»
10:45 a 11:30h – Opción A. Beth Hayden. Room C: «Using Pinterest to Connect with Your Customers, Get More Traffic and Make More Sales.» Opción B: Michael Brito. Room B: «Transforming Your Brand Into the Next Media Company.»
11:45 a 12:30h –  Opción A: Jesse Stay: Room B: «Google+ Marketing Success: It's Much More Than a Social Network.» Opción B: Eduardo Tobon. Room C: «Beyond Transactions: How to Engage a Global Audience.»
14:00 a 14:45h – Opción A. Callan Green and Karen Worley. Room F: «How Brands Leverage Pinterest and Instagram.» Opción B: Mark Schaefer. Room C: «Twitter Fever: Twitter's Ballistic New Role In Marketing, Media and Popular Culture.»
15:00 a 15:45h – Neal Schaffer. Room C: «How to Implement and Optimize Your Social Strategy.»
16:00h a 16:45h – Dave Kerpen. San Diego Ballroom: «Why It Pays to Be Likeable.»
Síguelo conmigo
Hemos creado este planning para organizarnos mejor, asistir a las charlas que nos interesan y además, poder informarte en cada momento a tiempo real de lo que courre a través de mi cuenta de Twitter, Instagram y el hashtag #SMMW13.
He habilitado un twitter stream a tiempo real para que puedas seguir todo lo que publico sobre #SWMM13 en el hashatg #IGSMMW13.
El martes obtendrás en este blog un resumen completo del día 1 con mis impresiones, feedback y conclusiones sobre todas las charlas que atienda, así como reflexiones indirectas producidas por el evento y entorno. El miércoles publicaré el resumen del día 2.
Y luego
Cuando acabe el evento el martes, continuaremos alquilando una caravana, haciendo una parte de la ruta 66 y acabando el viaje en Coachella, en el deserto de Indio en LA.
¿Qué charlas de todas estas te parecen interesantes? ¿qué otras podrían faltar en este planning?
Photo credit: my social media marketing network.